Hiking may not be the first thing that pops to mind when you think of Las Vegas, but within an hour of the city, you can find some unexpected and extraordinary landscapes, with outstanding hiking trails. To the west of the city, just 10 minutes from the outskirts of Las Vegas, Red Rock Canyon National Conservation Area allows access to a full range of trails that lead through a colorful world of rolling red rock hills and dramatic canyons. North of Las Vegas, about one hour away, Valley of Fire State Park is one of Nevada's great treasures, with short but rewarding trails to interesting rock formations, petroglyphs, petrified logs, and other unique sites. You can also find some worthwhile trails around Lake Mead and in the mountains to the west of Vegas, on Mount Charleston. Even within Las Vegas are a number of trails and wetland areas where you can see wildlife and enjoy a bit of nature.
1.  Fire Wave, Valley of Fire State Park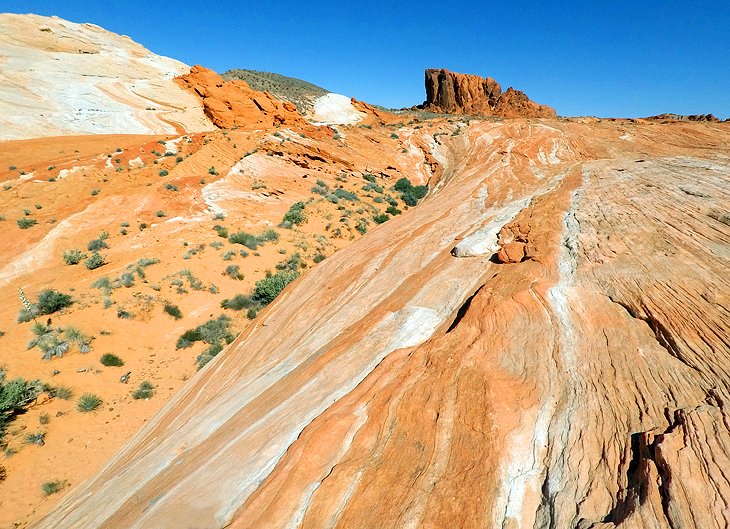 Fire Wave, Valley of Fire State Park
Valley of Fire State Park is one of Nevada's premier hiking destinations, and the most interesting hike in the park is Fire Wave. This 1.2-mile out-and-back hike takes you into some outstanding scenery, with open expanses of undulating, ribbed sandstone and colorful stone hills. Since it's almost impossible for curious hikers to stick strictly to the trail, you will likely end up hiking a greater distance, with side trips to explore the inviting stone hills. The trail begins over soft sand and curves around a huge orange fin, before it eventually opens up into waves of streaked, rolling stone. Views stretch out in the distance to hills in an array of colors that range from yellow and burnt orange to shades of green and turquoise. Since there is no shade on this hike, it's best to get an early start and avoid the midday sun.