Patagonia is for hikers. Though the weather is crazy, the region is remote, and trails can be rough, it's one of the most impressive places to do long-term treks thanks to all of the crazy rock formations and glaciers. Seriously, there are a lot of both.
I spent 2 months in Patagonia, hopping between Argentina and Chile, and I don't even know how many glaciers and waterfalls I must have seen during that time. I stopped counting. That's how incredible the scenery in Patagonia is.
After doing countless hikes, these are my top ten favorites for those exploring Patagonia, in order from north to south:
Tronador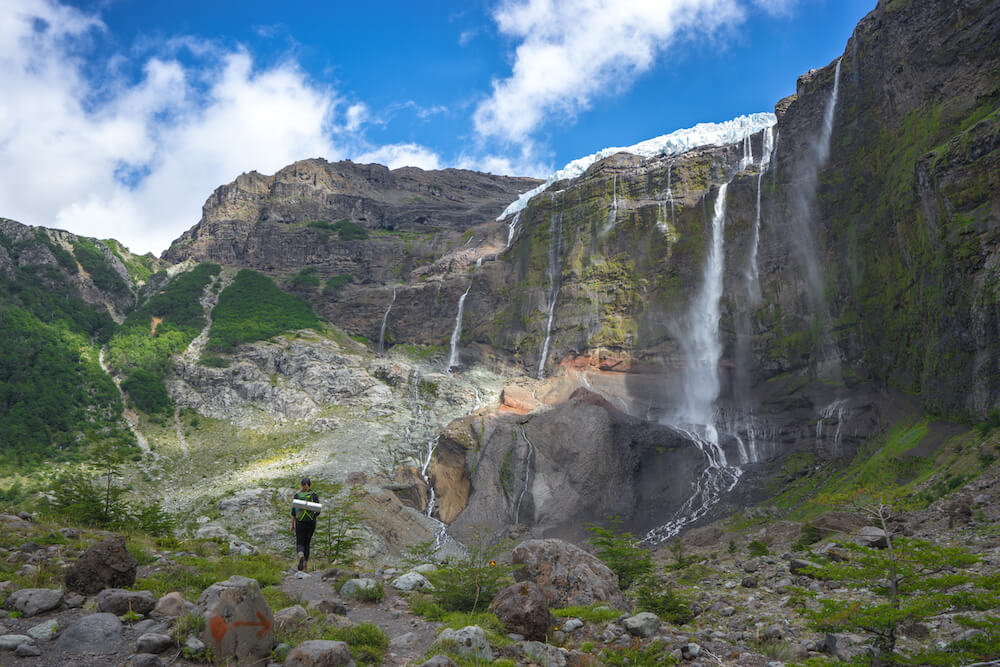 Looking up at the Cerro Tronador hanging glacier
Difficulty: Medium
Length: 36km, overnight
At the north end of Patagonia in Argentina, the Tronador hanging glacier trek is an excellent introduction to the region. If you're starting up there like I did, don't miss this hike. The trail starts after a 2-ish hour bus ride from the nearby town of Bariloche, popular for skiing in the winter.
The beginning runs through a forest and is pretty easy until getting to a steep and winding portion called the caracoles. After that, the climb is mostly on rock and though long, the trek is not extremely difficult. There's a refugio at the top where you can sleep for the night (book ahead in Bariloche at Club Andino!), or tote your own tent and camp. Watching the stars over the glacier is truly a spectacular sight.